Collusion between state forces and paramilitaries can take many forms.
Rarely do we see such casual collusion evidenced in inky black and white, though; and, here, it went to the top.
Two incidents. The same British Army Regiment. Just over 24 hours apart and a just a few of hundred yards away from each other. One incident was a mass murder. The other was the release of a gunman caught in the act. One estate was called Springhill and the other Springmartin.
But what set them apart? Well, one estate was Irish Catholic; the other, British Protestant.
Incident 1. Casual Collusion
Date: 10th July 1972. Springmartin, West Belfast
1st Battalion Kings Regiment (1 Kings) reported at 2308 hours (11:08 pm) that it arrested a gunman in the Springmartin Road area where the "interfactional battle [was] quite intense".

2347 hours (11:47 pm), 10th July 1972
1 Kings reported that:
"[NAME REDACTED] (Church of Ireland) [ADDRESS REDACTED] arrested Springmartin Road carrying a 9mm pistol and 11 rounds in holster. He does not have a fire arms certificate. Arrested by [1 Kings] patrol and not RUC." 
Around 0222 hours (2:22 am), 11th July 1972
The Commanding Officer of 1 Kings reported to 39 Brigade Headquarters:
"Picked up boy (17) with a weapon. UDA [Ulster Defence Association] Commander is taking boy away, saying they [UDA] will sort him out. Security Forces have the weapon. RUC and Company Commander [1 Kings] agree best [course of] action is to let boy go. If detained by Security Forces, there will be a major incident, and may foul up relations for 12 July."
0222 hours (2:22 am), 11th July 1972
The Commanding Officer of 1 Kings then reported:
"[CO] Has insisted that the boy is fully photographed and documented, and fully questioned then handed over to RUC. Boy very frightened. [NAME REDACTED] being told that this is the last chance..." 
0239 hours (2:39 am), 11th July 1972
The Commanding Officer of 1 Kings reported to 39 Brigade:
"Documentation and photos done. Boy will now be released by British Military on [the] advice of RUC." 

0232 hours (2:32 am), 11th July 1972
Seven minutes prior to the release of the Loyalist gunman by the British Army and the Royal Ulster Constabulary, 39 Brigade reported to British Army Headquarters Northern Ireland (HQNI):
"Ref [Reference] Protestant Gunman. 17 year old boy Stupid Boy - UDA Company Commander request[ed] to deal with it - Did not have firearms certificate. Being released to the UDA on the advice of the RUC."

Secret British military intelligence documents from May 1972 record that the Company Commander of A Company Highfield/Springmartin was Andy Tyrie who would subsequently become nominal leader of the UDA from 1973 to 1988. Despite murdering hundreds of civilians, the British state did not proscribe the UDA until August 1992.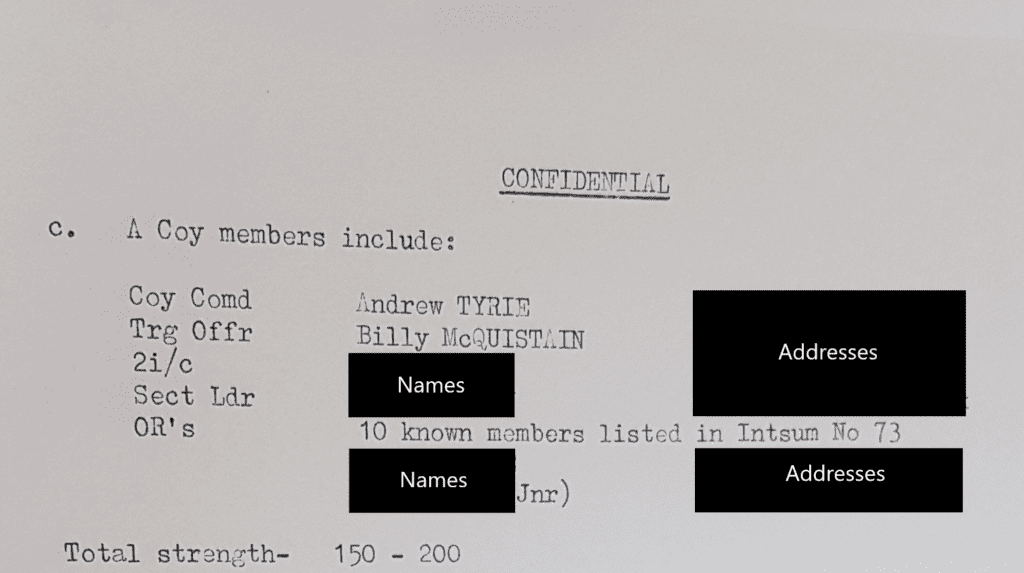 The Loyalist gunman's name is redacted so we do not know whether his paramilitary career ended that night or he was released and committed further violent crimes.
Incident 2. Mass Murder
Date: 9th July 1972. Springhill-Westrock, West Belfast
Just over 24 hours before the release of a Loyalist gunman by 1 Kings and RUC in Springmartin, and just a couple of hundred metres away, 1 Kings killed 3 unarmed teenagers, a family man and the local parish priest during the Springhill-Westrock Massacre. Another 2 unarmed locals were shot and injured.
All of the victims were Irish Catholics.
One of the murdered teenagers was 13-year-old girl called Margaret Gargan. Also killed were: John Dougal (16), David McCafferty (15), Patrick Butler (39) and Father Noel Fitzpatrick (40).
The killings began with a British Army attack on two vehicles that had stopped on the street. Local witnesses testify that John Dougal tried to go to the aid of the injured of one of these vehicles when he was shot.
Father Fitzpatrick and Patrick Butler were alleged to have been felled by the same bullet as they prepared to go to the aid of the injured. Father Fitzpatrick had just run from the church in his priestly garb and was waving a white handkerchief as a sign that he was coming out and he was no threat to the British Army.
David McCafferty was killed when he tried to drag Father Fitzpatrick's body to safety.
Margaret Gargan was killed by a British Army sniper when she was talking with her friends a couple of hundred yards away.
John Dougal and David McCafferty were later claimed as Fianna - Republican youth members of the Provisional Irish Republican Army and Official Irish Republican Army respectively.
Civilian witnesses testify that none of the victims were armed and later police tests found no trace of lead residue on their bodies.
The British Army alleged they were under attack and returned fire. They then alleged the victims were caught in crossfire during an intense gun battle with the IRA (again disputed by the civilian witnesses). The British Army then alleged Loyalists may have shot the victims before admitting at the original inquest that their soldiers injured and killed the victims. This inquest was a whitewash.
The families fought with great dignity for truth and justice over the last two generations before securing a new inquest but they still wait for this to begin.
Harry Gargan was 12 years of age when his sister Margaret was murdered. He told reporter, Trisha Devlin:
"Margaret's killing was cold-blooded... During the inquest at the time, someone from the Ministry of Defence stood up and read out a statement saying a soldier identified a 20-year-old gunman. They were trying to say they thought she was a 20-year-old gunman and it was a mistake. But no-one challenged them on this. They were allowed to stand up and say whatever they wanted and walked out."

"My father and mother came back to our house that day destroyed."

"It's very unnerving to know that, around the same time our loved ones were killed they were letting Loyalist gunmen go. In fact, it is horrific."
Pádraig Ó Muirigh of Ó Muirigh Solicitors represents the families of the Springhill-Westrock Massacre. He said:
"The actions of the British Soldiers at Springhill in 1972 demonstrates that they saw themselves at war with the nationalist community, the 'suspect community'. This explains why soldiers were so quick to have recourse to the use of lethal force in circumstances where it was clearly not justified. There is not a shred of evidence that any of the victims were doing anything wrong when they were shot dead."

"The soldiers' actions at Springhill were in stark contrast to their approach to Loyalist gangs. The behaviour of the soldiers went unchallenged by senior officers and this culture of impunity is still present today amongst serving soldiers of that generation which is reflected in those who continue to seek to evade the scrutiny of this Court as we saw at the recent Ballymurphy Inquest."
You can listen to the victims and local witnesses describe their experiences in this powerful film.
Legacy Archives
Paper Trail has submitted this evidence of casual collusion as part of a legacy archive study to the families and their legal team. There is much more to come.
Related Information
Sunday World: British Army Handed Loyalist Gunman to UDA Day After Killings by Trisha Devlin
(We will link to this article via Trisha's website when she posts it)
Ciarán MacAirt is founder and manager of the charity, Paper Trail. He is author of the critically acclaimed book, The McGurk's Bar Bombing. His new book, Trope: Essays and Articles, is now available on Kindle, with all proceeds going to Paper Trail to help other families in their pursuit of truth.