Murder and mayhem in May 1972 - another violent turning point in the conflict.
50 years ago this week, the North of Ireland erupted in a spasm of violence following a comparative lull since the prorogation of Stormont parliament six weeks before.
The weekend 13th May to 15th May was another vicious turning point in the conflict as the violence escalated dramatically and snowballed, and we slipped towards the abyss of the summer of '72.
This was not only a weekend of paramilitary and sectarian violence, though, but also of state killings, disinformation, and cover-up.
The hidden but bloody hand of state violence this weekend needs closer examination if we are to properly understand how close we came to outright civil war and why.
Paper Trail has supported many of the families impacted by the violence that weekend.
MRF Death Squad
The British Army's covert, extra-legal death squads of the Military Reaction Force cruised the dim-lit streets of West Belfast on Friday 12th May and found civilian prey minutes after midnight of the 13th.
Just Minutes after shooting a teenager in Slievegallion, an MRF unit attempted mass murder in Riverdale nearby. Sergeant Clive Graham Williams and his gang shot 5 unarmed civilians.
Married father of six, Patrick McVeigh, was killed.
The British Army publicly denied any responsibility at the time. Indeed, the local parish priest corrected initial British Army reports in the news which alleged there had been a "gun battle"; then British Army PR told the media that the attempted mass murder was "an apparently motiveless crime."
Only months later was the British Army forced to admit its soldiers were involved but it has yet to admit that they were members of the MRF. Nevertheless, Paper Trail published archival proof that they were following archival discoveries we made from 2014 onwards.
The resident British Army battalion in the area reported at the time in the 39 Brigade's Commander's Diary:
"0018 MRF has fired 12 automatic [sub-machinegun rounds] at seven gunmen FINAGHY RD North/RIVERDALE. No unit cas[ualties] but 4 gunmen shot… 3 x r rd [rounds] SMG [sub-machinegun rounds] – 6 x 9mm pistol. No follow-up. Were fired at first."

Both Headquarters Northern Ireland and Royal Military Police were informed immediately but these were egregious lies that were then denied and covered up from above.
The MRF had attacked a group of unarmed civilians and then drove off, leaving human devastation in their wake.
50 years later Patrick McVeigh's family and the survivors of the MRF attack are still fighting for truth and justice. We publish an article by Patrick's daughter, Patricia, who has been a formidable advocate for truth and justice for half a century.
Clive Graham Williams went to his grave recently, though, and received a military hero's funeral. He had killed and injured many Irish civilians in 1972. One of the other killers involved is allegedly too ill to talk with investigators.
New Evidence
So began a weekend of murder and mayhem and Paper Trail is examining a few of those horrific murders during the course of today and tomorrow.
We will also be publishing critical new evidence in the families' ongoing campaigns for truth.
These campaigns include the Kelly's Bar Massacre and the murder of father of four, Robert McMullan, who was shot and killed a few hours after the bombing of Kelly's Bar. His killing has yet to be claimed by any organisation.
Tomorrow, Paper Trail will publish a commemorative article by the family of Martha Campbell, a schoolgirl murdered close to her home on 14th May 1972.
Pernicious Legacy Bill
Many more were killed and injured that weekend including civilians and combatants. Kingsman Alan Buckley, Fian Michael Magee, Gerard McCusker, Óglach John Starrs, and John Pedlow never came home.
Paper Trail has worked on the secret British military files for nearly a decade and might be able to help the families of the other victims and survivors too.
All sides were guilty of the carnage - no side is blameless - but the untold story of state murder and mayhem this weekend in May 1972 needs investigation if we are to understand our shared history properly.
For example:
Did British Army excesses - including deliberate murder and cover-up - help destabilize an already fractious society and push us towards outright civil war?
Was the negative impact of these British Army excesses accidental?
Were there forces within the British military that wanted to "stir the pot" six weeks after the introduction of Direct Rule?
The terrible events of that weekend are also of direct relevance today as they offer horrific examples of why the British government is seeking to legislate its pernicious Legacy Bill. It wishes to bury its war crimes in Ireland and protect its killers.
Paper Trail examines a number of these cases in the following articles but emphasizes here again that all victims and survivors deserve truth and justice regardless of their background. Families in Ireland and Britain lost loved ones that terrible weekend in May 1972.
Read Paper Trail's Shooters: Britain's Military Reaction Force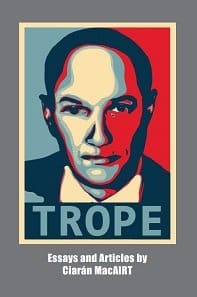 Trope: Essays and Articles
by Ciarán MacAirt.
These essays and articles represent a personal journey, and find him trudging from the killing fields of World War 1 to the back streets of Belfast where death squads prowled.
All of the profits from the sale of this book are donated directly to the charity, Paper Trail, to help fund its work with victims and survivors of the conflict in Ireland and Britain.