Follow the Paper Trail: CR Gas and the Burning of Long Kesh
Paper Trail is supporting the work of the campaign group investigating the deployment of CR Gas by the British Army and the Burning of Long Kesh.
Paper Trail is also inviting victims and survivors within the campaign group to read the secret files we have retrieved and to help us research the thousands of files.
Following a number of trips to the National Archives in London, Paper Trail has uploaded the first of many interesting files that campaigners can access:
Operation Pagoda: Use of CR Gas – Medical Committee
For example, read the letter below from August 1974, just a couple of months before the Burning of Long Kesh, which discuss the deployment of CR Gas at the Maze (Long Kesh) and Magilligan Prisons.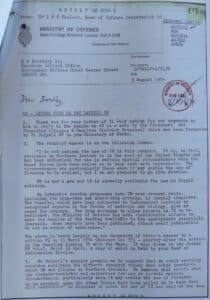 Subscribe to Paper Trail Blog
Read critcal archive finds and new reports first.
If victims and survivors within the campaign group want access to these files when Paper Trail uploads them over the next few weeks, we can collect their anonymous information for the charity here.
We left a box where you can write privately it is for the CR Gas/Long Kesh campaign group as Paper Trail is working with a number of other campaigns:
Name of Specific Campaign, Archives or Any Other Reasons
We will then send an invite via email once anyone has signed up to access the files via Box on the cloud.
Paper Trail does this manually and only checks requests every few hours, so please be patient. We will get you linked in as soon as possible.
You will need to sign up for a free account on Box (which is handy to have if you don't have it).
The free account for Box is on the left of the Individual Price Plan.
The more eyes looking at the files, the better.
CAVEAT
Paper Trail would like to ensure that you are safe to read these public records and that you have support networks in place.
Please exercise caution when reading any information relating to the conflict, especially information relating to you and your family.
Do not hesitate to contact Victims and Survivors Service (VSS) directly if you require support as there are a range of organisations that offer free and independent advice relating to your health and well-being.
VSS Telephone 028 90 279 100 I Lifeline 0808 808 8000
VSS Web Contact
THREE STEPS TO ACCESS THE NEW EVIDENCE BELOW