The Irish American Unity Conference (IAUC), an august organisation working for justice and peace in Ireland, has recognised the work of Paper Trail with a donation to the charity in the run-up to St. Patrick's Day.
The gift from the the renowned Irish American group will pay much of Paper Trail's operational costs for the year including the likes of payroll and charity insurance.
Peter C. Kissel, National President of the IAUC said:
"Our members are proud to be able to support the good work of Paper Trail in seeking the truth for victims and their families in the North of Ireland.  We recognize and salute Paper Trail's research and exposing the crimes against civilians committed by the British state and its operatives."
Chair of Paper Trail, Niall Ó Murchú, thanked the IAUC for its recognition of Paper Trail's work with victims and survivors and the generous gift. He said:
"Paper Trail is one of the youngest and smallest charities working with victims and survivors of the conflict in Ireland. Our one employee, Ciarán MacAirt, carries out all of its project and governance duties. Paper Trail is lean and innovative but does not have the reserves and capacity of larger organisations."

"That Paper Trail's work is being recognised across the Atlantic by the likes of IAUC has given the charity such a boost. The IAUC has a long and venerable history of working for peace and justice in our country. IAUC's great gift has taken enormous pressure off a very small charity, allowing us to concentrate on the most important work we do – supporting victims and survivors of the conflict in Britain and Ireland."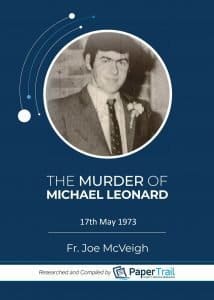 The Murder of Michael Leonard - New Report
Read the new report by FR. Joe McVeigh and Paper Trail featuring:
* New archival evidence * Commentary from the family and the legal team. 
Support the Work of Paper Trail
The author Ciarán MacAirt is donating all of the profits of his book, Trope: Essays and Articles, to Paper Trail and its work with victims and survivors of the conflict. Trope features some of his ground-breaking discoveries and represents a personal journey as he trudges across the killing fields of World War 1 to the back-streets of Belfast where death-squads roamed. Foreword by Father Sean McManus, international human rights activist, author, and President of the Irish National Caucus.