Paper Trail is publishing new evidence today in the RUC murder of Michael Leonard.
The new evidence regards further damning proof that Royal Ulster Constabulary (RUC) officers deliberately fired multiple shots and murdered Donegal civilian, Michael Leonard, close to the border at Pettigo on 17th May 1973.
The new evidence from British Army and Royal Ulster Constabulary files proves that the RUC fired a number of deliberate and aimed shots at Michael, covered up the circumstances of his murder, falsely alleged he was a member of the Provisional Irish Republican Army (PIRA), and then lied to the Coroner at the original inquest.
The RUC testified that one of its officers had accidentally killed Michael with a single shot after the officer pointed his cocked rifle out of the window of the RUC vehicle, the vehicle swerved, and his gun discharged.
None of the three RUC officers involved in the murder of Michael appeared at the original inquest.
Instead, an RUC Inspector testified that one of the RUC officers put a round in the breech of the rifle and held the rifle out the passenger window to fire a warning shot over the car. He "accidentally snatched the trigger and discharged a round" after the vehicle "took a violent turn".
These were lies and the Coroner at the original inquest returned a finding of misadventure.
This new evidence supports and substantiates evidence that the Leonard family and Paper Trail published in 2019 proving that Michael was not shot accidentally with a single shot as the RUC alleged, but deliberately targeted and shot at multiple times by his police killers before he could reach the sanctuary of the border and his home in Pettigo, County Donegal.
"We now know that the RUC deliberately targeted and killed Michael. The RUC then tried to cover up his murder and lied to the Coroner at the Inquest in 1973."
Fr. Joe McVeigh, Michael's Cousin
NEW EVIDENCE
The new evidence includes previously undisclosed evidence from British military and police files recorded hours, days and weeks later and after the British armed forces had time to gather correct information:
British Army Situation Report, 0300 hrs 18th May 1973
"THE BELEEK (sic) RUC RECOGNISED MICHAEL JOSEPH LEONARD IN A SHOP. ON BEING APPROACHED, THE SUBJECT RAN OUT OF THE SHOP AND REFUSED TO HALT WHEN TOLD TO. HE GOT INTO HIS CAR AND AS HE DROVE OFF THE RUC FIRED 2 SHOTS AT HIS CAR. THE RUC THEN GAVE CHASE AND AS THEY WERE TRYING TO OVERTAKE LEONARD HE TURNED ROUND [sic] AND MADE A MOTION AS IF GOING FOR A WEAPON. THE RUC FIRED ONE SHOT, FATALLY WOUNDING LEONARD."

British Army Intelligence Summary from RUC Divisions L & M, 22nd May 1973
"The RUC… recognised Michael LEONARD a suspected member of the PIRA [Provisional Irish Republican Army] from Pettigo. When they went to question him he ran off despite the fact that he was warned to stop. He then drove off in his car and the police fired two shots at the vehicle which did not stop. The police followed up in a landrover and fired one more shot which struck LEONARD, who later died."

HQNI 3 Brigade Intelligence Summary, 12th June 1973
"The murder of Constable PURVIS [6th June 1973] is almost certainly a PIRA assassination in retaliation of the killing by RUC of Michael LEONARD (PIRA) on 17 May 1973."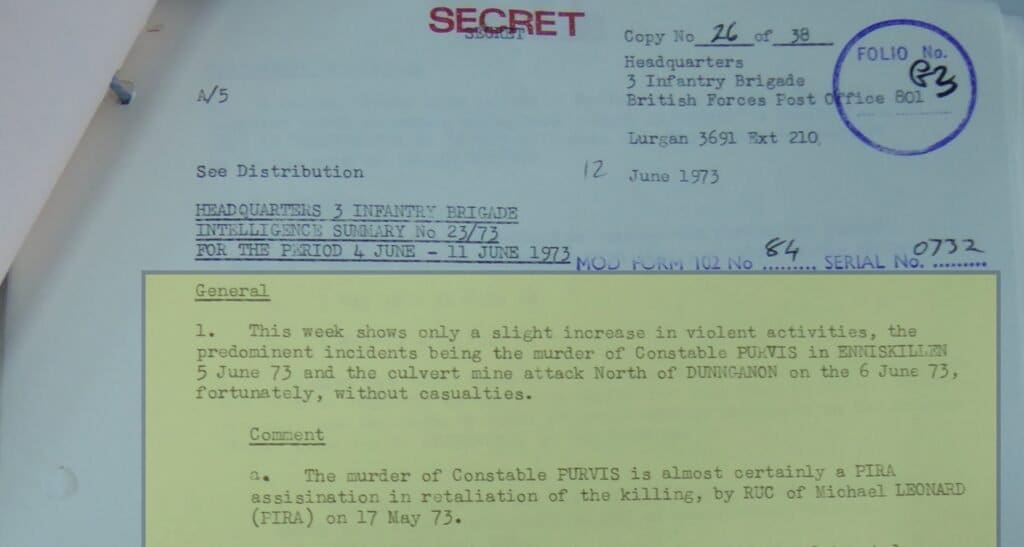 HQ 3 Brigade Border Report from RUC L Division, 22nd June 1973
"The RUC shot dead Michael John LEONARD when he refused a call to halt."

MEDIA COMMENTS
Michael's cousin Fr. Joe McVeigh said:
"We now know that the RUC deliberately targeted and killed Michael. The RUC then tried to cover up his murder and lied to the Coroner at the Inquest in 1973. This new evidence highlights the failure of the British authorities to investigate the RUC murder of an unarmed Irish citizen. It is a cover-up which continues to this very day. Not only are these police killers escaping justice for Michael's murder, but our family fears they were guilty of other crimes during the conflict. There must be a new and proper Inquest."
Councillor Michael Naughton (Fianna Fáil, Donegal County Council) said:
"I am yet again calling on Minister of Foreign Affairs Simon Coveney TD and Minister for Justice Helen McEntee TD, to request a fresh and transparent inquiry into the murder of Michael Leonard as a matter of urgency. It is coming on 3 years since this case was first brought to Minister Simon Coveney. Next year will be the 50th anniversary of the murder of Michael Leonard and his family deserve justice."
Adrian O'Kane of Patrick Fahy & Co Solicitors said:
"Since the unjustified killing of Michael Leonard on 17 May 1973, there have been investigations conducted by RUC, PSNI, PONI, whilst the Dept of Foreign Affairs and the Attorney General have expressed serious misgivings about the circumstances of Michael's death.  Some 50 years later it is clear that the true circumstances of Michael's killing have been withheld from the Leonard family.   A fresh Inquest is called for as a matter of priority and public importance."
Ciarán MacAirt from Paper Trail said:
"This is further damning proof that the RUC deliberately targeted Michael and executed him before he crossed the border to safety. This new evidence is also a horrific indictment of the failure to investigate by Police Service Northern Ireland, Office of Police Ombudsman, Office of the Attorney General and Public Prosecution Service. The discoveries also coincide with the British Government's pernicious Legacy Bill, its threats to bury British war crimes in Ireland and its promise of amnesty for its killers in uniform. Such attacks on our basic human rights do nothing but compound the grief of Michael's family and families like them."