Press Release: British Army Commander Informed of Deliberate RUC Murder of Michael Leonard
The British Ministry of Defence (MOD) has admitted that the General Officer Commanding (GOC) the British Army in Northern Ireland was informed that the Royal Ulster Constabulary (RUC) deliberately targeted and killed Irish civilian, Michael Leonard, the day after the murder.
Following specific requests under the Freedom of Information Act by the charity Paper Trail, MOD finally supplied the family with evidence which was not disclosed to them nor the Coroner at the original inquest nearly half a century ago. The new evidence includes a secret briefing to Lieutenant General Sir Frank King who was the General Officer Commanding – the man in charge of the British Army in Northern Ireland at the time.
All of this new evidence proves beyond any doubt that the RUC did not shoot Michael accidentally with a single shot, but deliberately targeted and shot at the victim three times, fatally wounding him with the third shot. The RUC killers murdered Michael before he could reach the sanctuary of the border and his home in Pettigo, County Donegal, on 17th May 1973. The RUC then lied to the family, the Coroner and the Irish Government, alleging that they accidentally killed Michael with only one shot fired.
The archival evidence from secret British Army files included a Director of Operations Brief dated 18th May 1973, the morning after the murder. The Director of Operations was General Officer Commanding (GOC) Lieutenant General Sir Frank King who was in overall charge of the British Army in Northern Ireland. This Brief was a summary of important events over the previous 24 hours compiled especially for the GOC. It states:
"A young Catholic man from Co. Donegal was killed near Belleek. He was recognised by the RUC, was challenged and failed to halt. As he drove off, the RUC fired 2 shots at his car and, in the subsequent chase, the man appeared to draw his weapon so the RUC fired again and fatally wounded him…

16/5 L [16th/5th Royal Queen's Lancers] (POLICE DIVISIONS L AND M)…

… a routine RUC patrol recognised:

[Handwritten – "Man from Republic killed] MICHAEL LEONARD (RC) [Roman Catholic] Adress in EIRE, and attempted to question him. He fled and ran to his car and drove away inspite [sic] of challenging. 2 rounds were fired at the car. Chase was given in a landrover and a further shot fired, hitting LEONARD, who later died of his injuries."

The MOD states that handwritten notes on the Brief state: "After Leonard went for a weapon" and "1 Terr[orist] killed".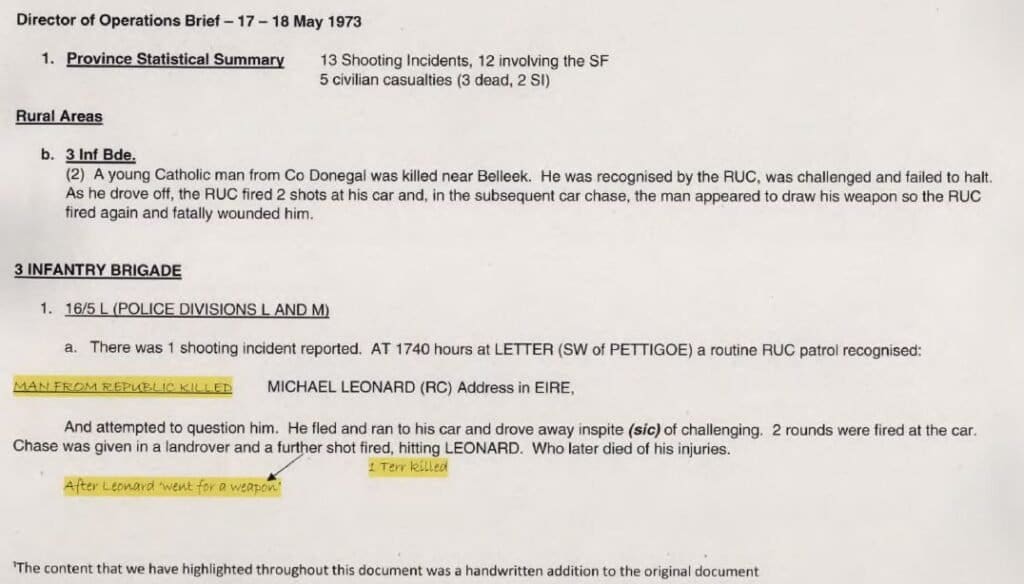 Michael Leonard was an unarmed civilian and posed no threat to his RUC killers when they murdered him.
Continued below //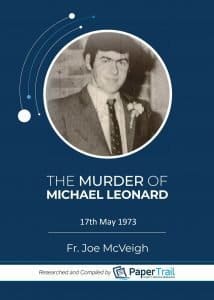 The Murder of Michael Leonard - New Report
Read the new report by FR. Joe McVeigh and Paper Trail featuring:
*New archival evidence*
Commentary from the family and the legal team. 
Further Evidence
The British MOD also disclosed Headquarters Northern Ireland Operations (HQNI Ops) Log Sheets from 17th May 1973 which include the RUC lies that Michael drove through a police Vehicle Checkpoint (VCP).
"1815 (6:15 pm)         1740 (5:40 pm)… VCP manned by RUC… car trying to get through – driver wounded by RUC shooting details to follow

2212 (10:12 pm)         … 1715 (5:15 pm) shots fired by RUC – cas[ualty] has now died. Michael Joseph LEONARD (RC 25) [Redacted] lives in Republic – driving red car from over border – driving whilst disqualified so did not stop at VCP – RUC open fire – only occupant in car."

HQNI Ops Log Sheets then clarify:
2342 (11:42 pm)         RUC on routine patrol recognised Michael LEONARD and he ran away – refused to stop, jumped into car and drove off. 2 x shots fired at car and gave chase in landrover. 1 more shot fired, hit LEONARD subsequently died."

The MOD also admits that it is withholding further evidence, so Paper Trail has requested an immediate Internal Review of that decision and asked for scanned copies of the original files.
COMMENTS
Michael's brother, John Leonard, said:
"This new evidence follows the 50th anniversary of Michael's murder and our petition of support from the Irish Government for a new inquest. This is further damning proof that the British Armed Forces murdered Michael and then covered it up."
Michael's cousin, Fr. Joseph McVeigh said:
"Britain's proposed Legacy Bill will deny Michael's family equal access to justice whilst protecting his RUC killers. The Irish Government must fight this travesty in Europe if Britain tries to block families like ours."
Family solicitor, Adrian O'Kane of Fahy Solicitors said:
"The dignified Leonard family have raised the injustice of Michael's killing at every level. The decision to rule upon a fresh Inquest rests with the Attorney General, and in view of the Legacy Bill guillotine, a decision is needed now.  The grounds to order a fresh Inquest are most compelling, in line with other recent such directions from the Attorney General."
Ciarán MacAirt of Paper Trail said:
"These files prove beyond any doubt that the RUC deliberately murdered Michael and lied to his family, the Coroner and the Irish Government. It is now up to the Irish Government to stand up for the basic human rights of one of its citizens murdered by a foreign police force. Remember too that this killer gang is still at large."  
IN THE NEWS
🎧 Ocean FM: New evidence uncovered on killing of Donegal man Michael Leonard (link)
📰 Irish News: New evidence confirms Catholic man shot at three times by RUC (link)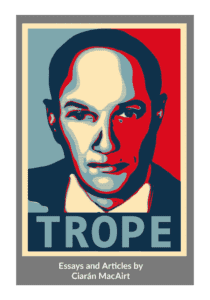 Support the Work of Paper Trail
The author Ciarán MacAirt is donating all of the profits of his book, Trope: Essays and Articles, to Paper Trail and its work with victims and survivors of the conflict. Trope features some of his ground-breaking discoveries and represents a personal journey as he trudges across the killing fields of World War 1 to the back-streets of Belfast where death-squads roamed. Foreword by Father Sean McManus, international human rights activist, author, and President of the Irish National Caucus.