Podcast: Play in new window | Download
Subscribe: RSS
Gerry Fitt: Snake in the Grass? Podcast.
In this Paper Trail Pro Podcast, author Ciarán MacAirt discusses the dirty dealings of one of the North of Ireland's best known - and divisive - politicians, Gerry Fitt, or Lord Fitt of Bell's Hill as he was to become.
MacAirt discusses his discovery of a shady meeting between Fitt and the then British Home Secretary Reginald Maudling at Westminster. Fitt was at pains to ensure that the meeting remained secret and you will find out why here. Share this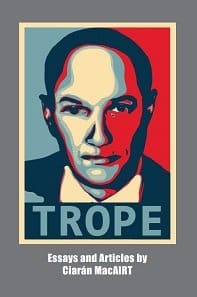 Trope: Essays and Articles
This podcast is just one of the stories and archival discoveries published in Trope: Essays and Articles by Ciarán MacAirt. Ciarán MacAirt is an award-winning writer and human rights activist. These essays and articles represent a personal journey, and find him trudging from the killing fields of World War 1 to the back streets of Belfast where death squads prowled. Trope includes a Foreword by Father Sean McManus, a renowned activist and author. All of the profits from the sale of this Kindle book are donated to the charity, Paper Trail, to help fund its work with victims and survivors of the conflict in Ireland and Britain.