March 1st 2021 is the 40th anniversary of the start of the second hunger strike.
It began when Bobby Sands, the Officer Commanding Irish Republican Army prisoners in the Maze Prison, refused food. At  the start of the second hunger strike, Republican prisoners called off the Blanket Protest which began in 1976.
This was reported by the Republican movement as a tactical move to focus attention on the hunger strikes and "to highlight the main areas of our demands" (reported Belfast Telegraph, March 1981).
These Five Demands were:
The right not to wear a prison uniform
The right not to do prison work;
The right of free association with other prisoners, and to organise educational and recreational pursuits;
The right to one visit, one letter and one parcel per week;
Full restoration of remission lost through the protest.
Together, they amounted to a demand for political status or Special Category Status for the prisoners which had been denied by the British state since 1976.
Archives
In 2017, Paper Trail spent two months researching and retrieving thousands of files from the National Archives in London which helped to inform the work of an Independent Panel of Inquiry into the circumstances of the H-Block and Armagh prison protests.
The mammoth work of the panel was published as a report in October 2020 entitled "I Am Sir, You Are a Number" which you can download here.
The hunger strikes and the strikers obviously featured in many files. The British authorities compiled short profiles of the strikers for propaganda use including the one for Bobby Sands.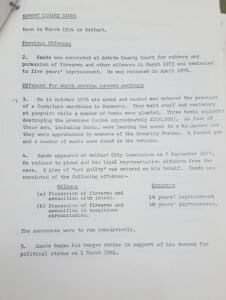 Online Archives
There is also a wealth of online archives which you can visit and read historical documents regarding this tumultuous period. For example:
CAIN Website (Conflict Archive Internet) via Public Records Office Northern Ireland
Extract from Medical Officer's Journal, 1st March 1981. Read here…
Note of a Meeting on the Maze Prison Protest, 2nd March 1981. Read here…
Northern Ireland Office: Protests and Second Hunger Strike – Weekly Bulletin. Read here…
British Prime Minister Margaret Thatcher Archive [another excellent resource]
Northern Ireland: Atkins statement to House of Commons, 3rd March 1981. Read here…
Member of Parliament
On 9th April 1981, voters in the Fermanagh and South Tyrone By-Election took the opportunity to vote in Óglach Bobby Sands as their Member of Parliament on the 39th day of his hunger strike. He died on day 66.